(Source: Analysis by PMOI/MEK)
On July 18, 1994, a massive truck bombing outside a Jewish center in Buenos Aires, Argentina, took the lives of 85 people and left more than 200 others injured.
The timing and location of the AMIA attack was selected to cloak the identity of those behind this attack. For a period of 23 days, those investigating this terrorist attack were left with this question: What was the objective and message of this attack?
On August 10th of that year, the Iranian Resistance declared the Argentina bombing was blueprinted in Tehran by the Revolutionary Guards (IRGC), the Intelligence and Foreign ministries, and approved by the regime's High National Security Council.
On August 22nd, the Washington Post ran a piece based on the Resistance's intelligence, saying this information reveals the role of senior Iranian regime officials in this terrorist crime. The Iranian Resistance's intelligence was later confirmed by various international organizations.
Iranian Opposition Intelligence
The intelligence unveiled by the Iranian opposition National Council of Resistance of Iran (NCRI) shows how former Iranian president Ali Akbar Hashemi Rafsanjani, who chaired the High National Security Council session, and military advisors and fixed members, were behind the decision for this bombing.
After gaining the signature of Iranian regime Supreme Leader Ali Khamenei, then IRGC Quds Force commander Ahmad Vahidi was ordered to carry out the attack.
The following officials were present in the Quds Force Command meeting held afterward on this matter: Hossein Mosleh, a Quds Force commander; Morteza Rezaie, head of IRGC counter-intelligence; Tehrani, head of Quds Force logistics and Ahmad Salek, Khamenei's representative in the Quds Force. Asghari, another Quds Force operative active in Argentina under the pretext of a diplomat, was placed in charge of this mission.
The Iranian regime's Foreign and Guidance ministries were also tasked to cooperate with the Quds Force for this operation, and to provide their intelligence and assets for Asghari's disposal.
PMOI/MEK Info Impact
Following the revelations made by the PMOI/MEK on the Argentina terror bombing, then Argentinian president Carlos Menem described Islamic extremists as the element behind this attack on behalf of the Iranian regime. However, this dossier was suspiciously silenced and shelved.
Iran's Efforts to Cloak the Subject
"The Iranian government organized and carried out the bombing of a Jewish community center here eight years ago that killed 85 people and then paid Argentina's president at the time, Carlos Saúl Menem, $10 million to cover it up, a witness in the case has said in sealed testimony," according to The New York Times back in 2007.
"According to the witness, a high-level defector from Iran's intelligence agency who gave his name as Abdolghassem Mesbahi, Mr. Menem, who was president from 1989 to 1999, benefited for years from his ties to Iranian intelligence officials."
Was the AMIA Bombing Iran's Act of Revenge?
For more clarification lets step back three years prior to the bombing, to the last days of spring in 1991. The Associated Press reported on June 14 of that year citing Mr. Mohammad Mohaddessin, Chair of the NCRI Foreign Affairs Committee, holding a press conference and announcing from March 1990 onward the Iranian regime has allocated $200 million to its nuclear weapons program. This drive is being supported by Pakistan, China, and Argentina, he added.
Argentina canceled its nuclear weapons' deal with the Iranian regime following this revelation and increasing global pressures.
Following these developments, Alberto Nisman was appointed as chief of the investigation team.
Proof
In 2004, the Tribune de Genève daily revealed a $200 million bank account that may have provided the cost of 400 terror attack across Europe. A Swiss Judge has launched an investigation in this regard.
Two important judiciary cases in Geneva and Lausanne were in connection with this bank account.
Finally, on October 26th, 2006, Argentinian federal government prosecutors officially filed a lawsuit against Rafsanjani and seven other ministers and officials in office during his tenure, demanding their arrest warrants.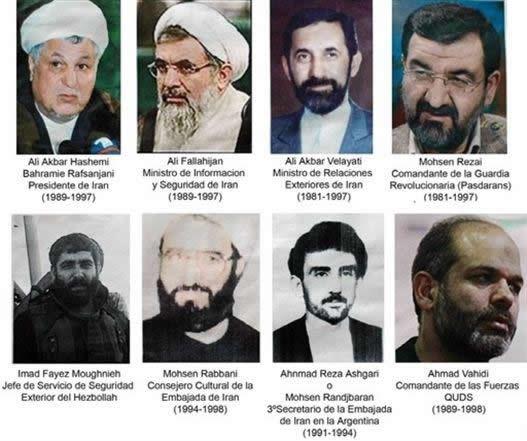 In addition to Rafsanjani, the lawsuit sought the apprehension of former foreign minister Ali Akbar Velayati (currently foreign policy advisor to Iranian regime Supreme Leader Ali Khamenei), former intelligence minister Ali Fallahian & Khamenei's current security minister, Expediency Council secretary Mohsen Rezaie (and former IRGC chief), then IRGC Quds Force chief Ahmad Vahidi, and Mohsen Rabbani and Ahmadreza Asghari, both diplomat terrorists, and former Hezbollah security chief Imad Mughniyah.
When Nisman filed his lawsuit in November 2006 much of his remarks were proof of revelations made 12 years earlier by the Iranian Resistance in 1994.
It has been proven that the decision to bomb the AMIA center in Buenos Aires was made by the highest Iranian regime officials and the Lebanese Hezbollah was tasked to carry out this mission, Nisman said. This attack was carried out after the Argentinian government decided to stop its transfer of nuclear technology and material to the Iranian regime.
Iran's Regime Fails Again
On May 16, 2014, Reuters reported on Tehran's failed attempt to discourse the AMIA case.
"An Argentine Federal court on Thursday struck down an agreement between the South American country and Iran to jointly investigate the deadly 1994 bombing of a Buenos Aires Jewish community center that local courts blamed on Tehran.
"Alberto Nisman, a prosecutor who oversaw an investigation of the AMIA center explosion that killed 85 people, had argued in his appeal to the court that in negotiating the 2013 deal with Iran, the executive branch had overstepped into authority reserved for the judiciary.
"Thursday's ruling declared the agreement unconstitutional and ordered Argentina not to go ahead with it. The deal had been delayed anyway by Iranian reluctance to move forward in implementing it.
"The government said it will appeal the ruling to Argentina's Supreme Court."
In early 2013, Argentine's Congress, based on a request from the executive branch, adopted an agreement with Tehran to establish a fact-finding mission regarding this bombing.
Argentina accuses the Lebanese Hezbollah of carrying out this attack under orders from Iran, which Tehran denies. From 2006, onward Argentinian courts have called for the extradition of eight Iranians, including former president Ali Akbar Hashemi Rafsanjani, former defense minister Ahmad Vahidi, and Mohsen Rabbani, the Iranian regime's former cultural official in Buenos Aires.
This agreement between the two countries was strongly rejected by organizations representing more than 300,000 members of the Jewish community, representing the largest Jewish community in Latin America.
According to another court decision, orders were placed for the extradition request to be placed once again, and a request to be made with Interpol to reactivate the statement calling for the arrest of former Iranian regime agents.
This case has many sidelines and sheds light on a small corner of the Iranian regime's larger drive to realize its dreams of obtaining nuclear weapons. The mullahs have launched numerous killings and resorted to all types of measures to reach this objective, including killings, fueling crises and … As a result, the Iranian people's riches have been wasted in overt deals and covert terrorist/arms plots. This will only come to an end with regime change in Iran.
Nisman's Murder
The dead body of Alberto Nisman was found on January 18th, 2015, at his home with bullet wounds in his body. Nisman was found with a .22 caliber pistol next to his body.
Nearly three years later on September 23, 2017, a team of investigators and forensics experts reached the conclusion that Nisman was murdered.
On July 18th, 2017, the U.S. State Department emphasized the necessity to have all the operatives involved in this crime face justice and to be made clear how Nisman was murdered.